WHY YOU'LL LOVE THEM:
They fold onto itself thanks to one clip fixed to the wall

They can hold up to 10 kg of laundry, effortlessly!

The grids are equipped with 8 laundry rods with 8 mm diameter

They are entirely made of aluminum and steel, materials that resist for a long time

They can be installed both indoors and outdoors

100% Made in Italy product

2 year guarantee
SIZE:
Volume: L 116 x W 50 x H 10 cm
Total length for hanging: 37,1 mt
Wall closing height: 57 cm
Wall mounted, with 4 anchor points
Free in EU
9€ in UK (custom duties and import taxes are included)
Free in Norway*
Free in Switzerland*
39€ in USA*
39€ in Australia*
49€ in Canada*
* Any custom duties and import taxes are not included.
4/5 business days from shipping
Compare Foxydry Drying Racks
Foxydry Fold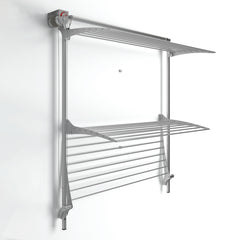 Foxydry Tower
Foxydry Wall Plus
WHY CHOOSE FOXYDRY FOLD
You install it with your brainpower 
Foxydry Fold is super easy to mount on your wall! You just need to fix the grid, and the rest is all done! Seriously… putting it together is the easiest thing ever!

"Click, clack" and Foxydry will disappear 
You don't need to hang your laundry and you need space? Foxydry Fold will become completely invisible, closing in on itself.

More space for your passions 
Making your drying rack disappear means having more space for you - what about taking up a new hobby?
In narrow rooms it is very difficult to optimize spaces, especially when we are talking about finding a place to hang out the laundry.
A foldable drying rack is definitely useful, disappearing from view when necessary.
Foxydry Fold does just that: it disappears in no time!
Don't be fooled by appearances, Foxydry Fold is small and compact, but it offers plenty of hanging space!
Let's look closely at the grid …
Check it out! They are not the same rods as a traditional drying rack.
Do you want to know something else? It fits up to 10 kg of laundry. Not bad for an almost invisible guy!
Okay, we understand, you were disappointed with the last drying rack you bought. It broke after a few months, right?

Rods often break because of too much weight. That means the material is probably not the best!
Like all the other Foxydry models, we used anodized aluminum and steel even for the smallest member of our family. Trust us, it's just indestructible!
NEW ARRIVALS
Browse our latest additions
Foxydry Vivo
Suction and blowing ironing board
add to cart
Foxydry Vivo Full Steam
Blowing ironing board with steam boiler and iron
add to cart