WHY YOU'LL LOVE IT:

It can lowered up to 1.80m from the ceiling, and can be stopped at any height through the remote control

Foxydry stops automatically in case of obstacles in its path
It can hold up to 35 kg of laundry
It is equipped with a low consumption LED lamp
Foxydry Air is also equipped with 2 ventilation fans, to facilitate drying
It has 2 double pipes that extend by 40 cm on each side, where you can hang bulky items such as bed sheets, jackets, tablecloths and blankets
It has 18/24 positions to hang jackets and shirts with hangers
Foxydry Air is built entirely in Steel and Aluminum, to ensure resistance and durability over time
Made in Italy Product

2 year guarantee
SIZE:
Volume: L 160 X W 57 X H 30 cm
Max length of frame for bed sheets: 240 cm
Total length for hanging: 20 meters
Maximum descent from the ceiling: 180 cm

ENERGY CONSUMPTION:
Ventilation system: 44 w
Lighting: 16 w
Movement: 130 w
Voltage: 220v
Ceiling mounted, with 4 anchor points and an electrical connection
Wall mounted, with 2 Foxydry brackets
On plasterboard, taking into account that its weight with a full load is 50 kg
On sloping or high ceilings with a cable kit
Free in EU
9€ in UK (custom duties and import taxes are included)
Free in Norway*
Free in Switzerland*
59€ in USA*
69€ in Australia*
49€ in Canada*
* Any custom duties and import taxes are not included.
4/5 business days from shipping
Compare Foxydry Drying Racks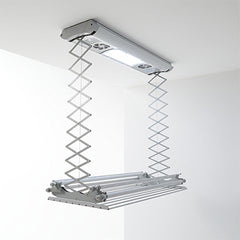 Foxydry Air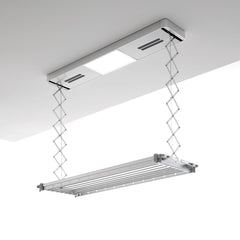 Foxydry Pro
WHY CHOOSE FOXYDRY AIR

Sloping ceiling? No problem! 
You can install Foxydry Air even on sloping or particularly high ceilings just by adding the cable kit!

Do you prefer it on your wall? You can have it! 
If you can't drill into the ceiling, don't worry - Foxydry Air can also be installed on your wall with just 2 brackets.

It suits your height 
Use the remote control and stop it at the most convenient height for you. one click is enough for it to rise to the ceiling, and goodbye mess!
The long-lasting battle that you have been carrying out for years against Mr Mould is coming to an end, and you're the winner!
The two fans that Foxydry Air is equipped with will help you defeat your enemy. Your laundry will dry more easily, thanks to air recycling.
End of the story, Mr Mould will be forced to retreat.

Since installing Foxydry Air, your stress will disappear leaving a great sense of mental and physical serenity.

You will finally be able to abandon your workouts with the traditional drying rack. Admit it, moving it from one part of the house to another wasn't your favorite sport, was it?

The remote control does all the dirty work, lifting up to 35 kg of laundry with just one click, without any sign of fatigue… leaving you to enjoy the extra space!
Finally, you'll be able to use your creativity for other purposes, because you no longer have to work hard to hang your sheets on the drying rack to prevent them from touching the ground.
Luckily, Foxydry Air is equipped with 2 long tubes, extending up to 200-240 cm, designed specifically for the most bulky items. You can also stop it at the most convenient height for you!
NEW ARRIVALS
Browse our latest additions
Foxydry Vivo
Suction and blowing ironing board
add to cart
Foxydry Vivo Full Steam
Blowing ironing board with steam boiler and iron
add to cart