The drying rack for your ceiling or wall that revolutionizes your living space and improves your quality of life. Yes, we're not making that up!
You get back home and it's there, right in the middle of your hallway.
It's your clothes drying rack, and it will not let you through!
Your sofa is only a few meters away, your socks scattered on the ground show you the way towards well-deserved relaxation. If you reach it, you'll be safe, but the truth is that you'll never get there...
There are two possibilities - either you surrender to the idea of crossing an obstacle track on your way home, or you let our space-saving drying rack change your everyday life...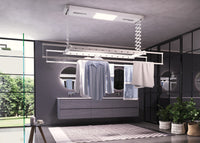 Foxydry Pro
Our new model: the heated drying rack, that speeds up drying even in the coldest days!
Foxydry Air
The remote-controlled ceiling drying rack, so beautiful that you'll spend hours looking at it!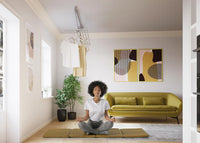 Foxydry Mini
Our manually adjustable ceiling drying rack, so light that hanging the laundry will become your new hobby!
Foxydry Wall
Foxydry Mini's cousin for your wall. Now you can race down your corridor, with no risk of tripping over!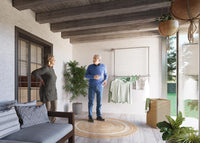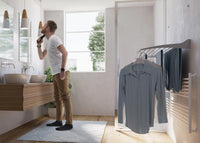 Foxydry Fold
The slimmer and more compact version of our space-saving drying racks, almost completely invisible to the human eye
Advantages of Foxydry, the space saving drying rack

It lasts forever, it's not a joke
After a while, the rods of traditional drying racks break, right? This will not happen with our models - they are made of steel and anodized aluminium.

It's super easy to install
Have you ever put together a drying rack for your ceiling or wall? Don't worry - you will see that instructions are really simple!

The drying rack will
finally be out of the way
Forget moving your drying rack from a place to another. Sounds like a dream, doesn't it? ;)
Find out the best model for you
Compare the characteristics of all our different ceiling and wall-mounted drying racks,
and find out which model best suits your needs.
You thought that was everything, but there is more...
Delivery in record times
You'll be able to track your delivery and start enjoying your new space-saving drying rack in just 3 days!
Friendly and fast customer service
Do you have questions? Our customer service team is always available, by phone, email or through social media.

We are italian!
We are indeed, proud to represent and export Made in Italy to the world
Laundry Accessories
With our laundry accessories you will have the perfect setting to relax and forget about your problems.